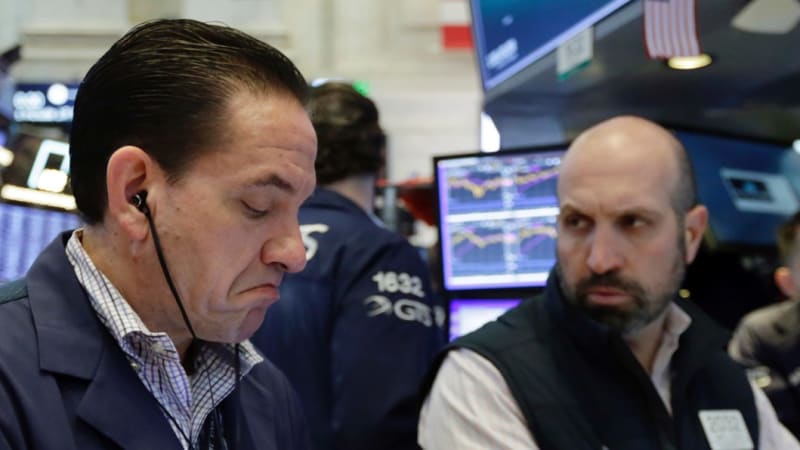 Sandven said the trade spat will endure past the midterm elections in November, but stocks are likely to keep rising because of strong earnings growth for US companies, combined with low inflation and low interest rates.
The S&P 500 index fell 10.30 points, or 0.4 per cent, to 2,919.37. The Dow Jones Industrial Average lost 181.45 points, or 0.7 per cent, to 26,562.05. Both the S&P 500 and Dow set record highs last week.
The Russell 2000 index of smaller-company stocks dropped 7 points, or 0.4 per cent, to 1,705.32. The Nasdaq composite rose 6.29 points, or 0.1 per cent, to 7,993.25.
After a volatile stretch early this year, the S&P hasn't risen or fallen 1 per cent in a day since late June.
Sandven noted that this year's stock gains have been concentrated in technology, retail and health care companies. That was the case Monday, as Apple gained 1.4 per cent to $US220.79 and drug and infant formula maker Abbott Laboratories advanced 3.5 per cent to $US71.44. Sandven said it would be an encouraging sign for the market if other sectors do better.
US investors were occupied with other news. OPEC and key allies like Russia decided not to increase their oil output further. Production is falling in some OPEC nations, including Iran, which faces new sanctions from the US
Benchmark US crude gained 1.8 per cent to $US72.08 a barrel in New York while Brent crude, the international standard for oil prices, rose 3 per cent to $US81.20 a barrel in London, its highest price in more than three years.
Airlines and other transportation companies fell as investors anticipated they will have to pay higher prices for fuel.
Late Friday Comcast won an auction for majority control of British satellite TV giant Sky. Its final offer was worth about $US39 billion and topped an offer from Twenty-First Century Fox, which is already a major Sky shareholder.
In London, Sky shares jumped 8.6 per cent. Comcast sank 6 per cent to $US35.63, while Fox rose 1.5 per cent to $US45.01. Disney, which is buying Fox, climbed 2.1 per cent to $US112.77.
Barrick Gold will buy competitor Randgold Resources for $US6.1 billion in stock. The merged company will combine Randgold's African mines with Barrick's holdings in the Americas to form the world's largest gold miner.
Barrick rose 5.4 per cent to $US11.04 and Randgold gained 6.6 per cent to $US68.14.
Subscription radio company Sirius XM says it's buying music streaming service Pandora Media. The deal will expand its service beyond cars and into homes and other areas. The companies valued the deal at about $US3.5 billion in stock.
Sirius sank 10.3 per cent to $US6.26 and Pandora slid 1.2 per cent to $US8.98.
An Italian newspaper reported that the Versace group is on the verge of announcing that it will be acquired, and Bloomberg and Reuters reported that luxury fashion and handbag maker Michael Kors is the buyer. The Italian publication, Corriere della Sera, said the deal is worth 2 billion euros ($US2.4 billion).
Michael Kors stock skidded 8.2 per cent to $US66.71.
Markets in Europe edged lower while Asian indexes took sharper losses. Germany's DAX fell 0.6 per cent and the CAC 40 in France lost 0.3 per cent. The FTSE 100 in Britain dipped 0.4 per cent. Hong Kong's Hang Seng index fell 1.6 per cent and India's Sensex gave up 1.5 per cent. Markets in Japan and South Korea were closed for national holidays.
Marijuana-related companies continued to make dramatic moves. Biotechnology company Intrexon soared 31.5 per cent to $US19.07 in heavy trading after it said it engineered a strain of yeast to produce chemical compounds found in marijuana consistently and at low cost. Scientists say that's been a problem in researching the drug.
Canadian medical marijuana company Tilray sank 19.1 per cent to $US99.50, its third consecutive big loss. Before that, the stock's value nearly tripled over the course of a week and a half.
Bond prices fell. The yield on the 10-year Treasury note rose to 3.08 per cent from 3.06 per cent.
In other commodities trading, wholesale gasoline rose 1.9 per cent to $US2.05 a gallon. Heating oil added 2.7 per cent to $US2.29 a gallon. Natural gas gained 2 per cent to $US3.04 per 1,000 cubic feet.
Gold added 0.3 per cent to $US1,204.40 an ounce. Silver lost 0.1 per cent to $US14.34 an ounce. Copper fell 0.8 per cent to $US2.84 a pound.
The dollar rose to 112.73 yen from 112.52 yen. The euro edged up to $US1.1758 from $US1.1747.
AP
A relationship banned under traditional law.
Our new podcast series from the team behind Phoebe's Fall
View episodes