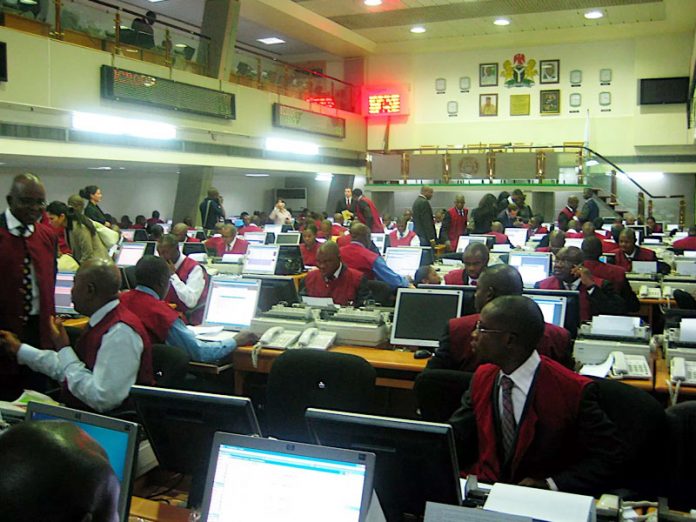 Goddy Egene
Negative sentiments persisted at the stock market last week, leading to investors losing N184.5 billion. Having recovered three weeks ago, the market slipped into the hands of the bears the previous week, falling 0.9 per cent.
That negative trend was sustained last week with the Nigerian Stock Exchange (NSE) All-Share Index, declining by 1.38 per cent to 27,146.57. Market capitalisation went down by same margin or N184.5 billion to close at N13.207 trillion.
Buying interest in Nestle Nigeria Plc, Cement Company of Northern Nigeria, MTN Nigeria and International Breweries Plc lifted the market by 0.14 per cent, 0.08 per cent respectively on Monday and Tuesday. But the market ended on Wednesday in the negative territory shedding 0.97 per cent. It also declined by 0.17 per cent, 0.39 per cent on Thursday and Friday in that order.
In terms of sectoral performance, the NSE Insurance Index rose 0.8 per cent to lead the gainers while the NSE Banking Index followed with 0.2 per cent. Conversely, the NSE Consumer Goods Index shed 1.3 per cent, trailed by NSE Industrial Goods Index with a decline of 1.0 per cent. The NSE Oil & Gas Index shed 0.03 per cent.
Commenting on the performance of the market, analysts at Afrinvest (West Africa) said: "We expect the bearish momentum to continue although there is room for gains due to opportunities for bargain hunting in fundamentally sound stocks."
Generally, the African markets were bearish apart from Egypt that gained 0.7 per cent. GSE Composite and Kenya's NSE 20 Indices lost the most, shedding 1.9 per cent apiece. Mauritius' SEMDEX and Morocco's Casablanca MASI index lost, shedding 1.0 per cent apiece.
Looking at the developed markets under its coverage, Afrinvest said there was a sustained bullish performance despite trade tensions.
According to Afrinvest, United States (US) and China resumed trade negotiations, but