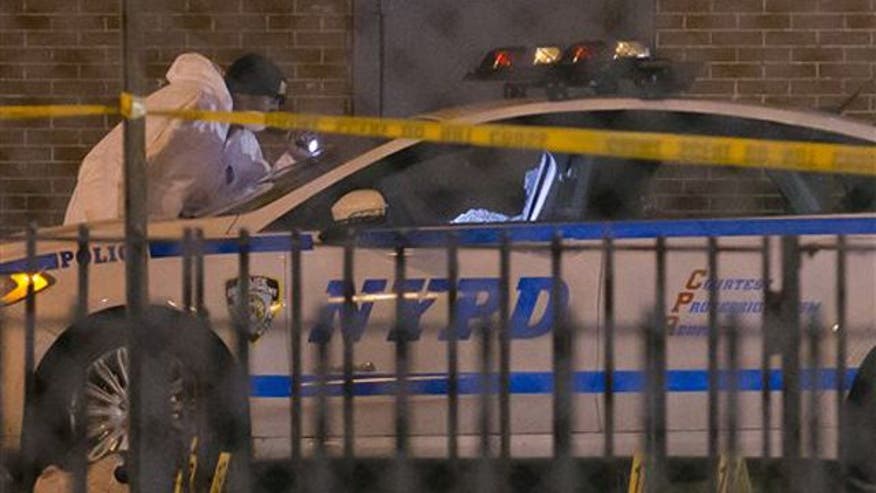 Two NYPD officers were killed Saturday in Brooklyn as they sat in their squad car by a gunman who reportedly threatened to shoot police hours earlier on Instagram.
The gunman, a 28-year-old with a criminal record who police believe may have been acting in revenge for the deaths of Michael Brown and Eric Garner, killed himself moments later in a subway station. The incident left the nation's largest police department stunned, and is sure to further inflame tensions between police and Mayor Bill de Blasio, who police had already said was unwelcome at police funerals because of his perceived support for anti-police protesters.
The brazen shooting occurred at approximately 3 p.m., and left Officers Wenjian Liu and Rafael Ramos dead. Police said the gunman, identified as Ismaaiyl Brinsley, appeared to be carrying out a planned assassination.
"The perp came out of the houses, walked up behind the car and lit them up," a high-ranking police official told the New York Daily News.
"They were, quite simply, assassinated," NYPD Commissioner Bill Bratton said in a press conference late Saturday.
The officers were shot in the head at point-blank range by the suspect, who then fled to a nearby subway station before turning the gun on himself.
Both officers were rushed to a nearby hospital, where both were pronounced dead, police said.
The New York Post reports that investigators believed the shooting may have been motivated by the deaths of Garner and Brown, two African-American killed in police confrontations in New York and Ferguson, Mo.
"I'm Putting Wings on Pigs Today," a person believed to be Brinsley wrote in an Instagram post that referenced both Brown and Garner posted just three hours before the officers were shot, the New York Post reported. Bratton confirmed that authorities were looking into some "very anti-police" Instagram posts.
The shooting comes at a time when police in New York and nationwide have been criticized by some over the circumstances surrounding the death of Garner, who was stopped by police for selling loose, untaxed cigarettes. Amateur video captured an officer wrapping his arm around Garner's neck in what some have described as a chokehold and wrestling him to the ground. Garner was heard saying, "I can't breathe" and later died.
Demonstrators around the country have held protests since a grand jury decided on Dec. 3 not to indict the officer involved in Garner's death, a decision that closely followed a Missouri grand jury's decision not to indict Officer Darren Wilson in the fatal shooting of Brown, 18.
Several New York officers were assaulted during demonstrations, including one event that drew thousands to the Brooklyn Bridge and at which two lieutenants were attacked.
"I have spoken to the Garner family and we are outraged by the early reports of the police killed in Brooklyn today," civil rights activist Rev. Al Sharpton said in a statement. "Any use of the names of Eric Garner and Michael Brown, in connection with any violence or killing of police, is reprehensible and against the pursuit of justice in both cases."
The president of the police officers union, Patrick Lynch, and De Blasio have been locked in a public battle over treatment of officers following the decision not to indict the officer in Garner's death. Just days ago, Lynch suggested police officers sign a petition that demanded the mayor not attend their funerals should they die on the job. De Blasio was also criticized for not speaking out about the two lieutenants who were assaulted in the protest at the Brooklyn Bridge.
"Had Mayor Bill de Blasio been forceful from the onset when the two lieutenants were attacked, one has to question as to whether this murderous psycho would have been compelled to target our heroic brother and sister in New York's Finest," Jon Adler, National President of the Federal Law Enforcement Officers Association told Fox News in a statement.
The last shooting death of an NYPD officer came in December 2011, when 22-year veteran Peter Figoski responded to a report of a break-in at a Brooklyn apartment. He was shot in the face and killed by one of the suspects hiding in a side room when officers arrived. The triggerman, Lamont Pride, was convicted of murder and sentenced in 2013 to 45 years to life in prison.
Fox News' Lucas Tomlinson and The Associated Press contributed to this report.
This entry passed through the Full-Text RSS service – if this is your content and you're reading it on someone else's site, please read the FAQ at fivefilters.org/content-only/faq.php#publishers.
Want something else to read? How about 'Grievous Censorship' By The Guardian: Israel, Gaza And The Termination Of Nafeez Ahmed's Blog